Full-Service Storage in Liverpool, NY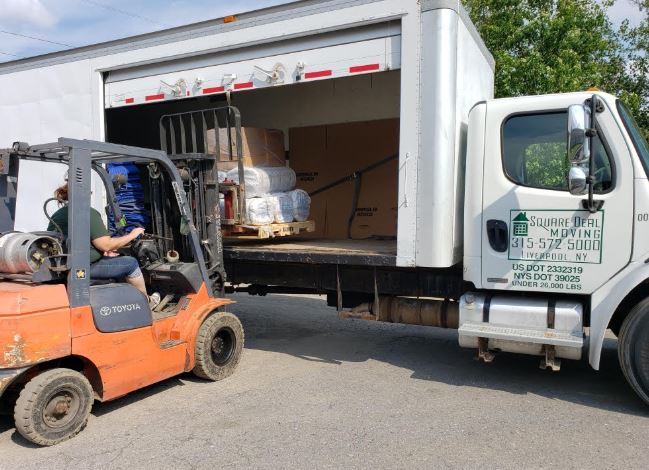 Regardless if you're moving, just decluttering, or you just have items that require a safe dwelling, full-service storage offers you the opportunity to make area in your daily life without throwing away your precious possessions.
Are you moving and require a short or longer term storage option? CNY Movers is here to assist, dealing with every component of the procedure so you can just pack up and leave.
Because moving provides you the very best opportunity to decide what your new house will look like, our full-service solution is offered to help you select what you need in your life and what you don't. All you really need to do is decide, we'll handle everything else - from pick-up and delivery to on-demand retrieval.
All of our storage sites deliver safe, guarded, and fully-insured storage, and we just charge for the size of the belongings you require, not the size of the unit. This deal conserves you cash on unused space.
Even better, we handle pick-up and distribution of your possessions, including white glove options for your most important valuables, and our storage centers offer complete 24-hour security and safety.
Call us right away for a free storage estimate in Syracuse, Liverpool, and Onondaga County, NY.
Reasons you may need professional storage
There are many reasons why you might need lengthy- or temporary storage. Here's a smattering that may relate to you.
You're selling your house
You're downsizing your home
You need to archive essential documents
You need to archive essential documents
You have seasonal belongings and home furniture
You're renovating your home
You're a collector
You require more space
You've acquired properties
You run a small business or larger company
You're heading to or coming back from college
Advantages of making use of our storage
We know you have more than a couple of alternatives when it comes to storing your things in Syracuse and suburbs in Central New York. Take into account our services for the following reasons.
Full-service pick up and delivery
With self-storage you need to drop off your possessions on your own - which can be tough if you do not have a big vehicle or van. Full-service storage from our crew, on the other hand, guarantees we deal with all the hefty lifting when it concerns picking up your valuables, putting them in storage, and delivering them to you when you need them.
24/7 Protection
Self-storage systems hardly ever have the exact same level of security as full-service storage systems. With CNY Movers full-service storage you never need to worry about the security of your personal belongings. Our facilities can only be accessed by our employees and authorized personnel, with modern-day features offering raised protection and tracking technology.
Retrieval when you need it
With self-storage you collect your belongings yourself, and if you do not have a big automobile this may be a challenge. Our full-service storage, nevertheless, guarantees we're on call for you. Get your possessions whenever you require them just by calling us to set up delivery to your location at a time that works best for you.
We're fully insured
With a lot of self-storage systems, you store your possessions at your own threat. With your personal belongings in our care, however, you never have to stress over unanticipated problems. The contents of our center are completely insured for your peace of mind.
Our storage is economical
Our cost is comparable to many self-storage services in our region. In other words, we will not cost a fortune. In addition, we provide remarkable advantages to self-storage alternatives. Contact us right now to find out more about storage prices.
Types of possessions we can keep secure for you
There is a wide range of things individuals need to take into storage. We have solutions for whatever, providing storage for the following:
Home furniture
Home appliances
Clothing
Holiday season decorations
Sports gear
Lawn equipment
Files and documents
Books and newspapers
Collectibles
Computers, tvs, and other electronics
Office supplies and devices
And a whole lot more!
Get your free storage estimate in Syracuse
Our storage units are advanced, modern-day, and ideally situated in the Central NY region. They are likewise totally safe, completely insured, and tracked at all times to ensure you can enjoy complete assurance that your possessions are safe.
Don't hesitate to phone us right now for a free estimate and to learn more concerning our storage alternatives and local and long-distance relocation service in Syracuse, Liverpool, Baldwinsville, Cicero, Clay and all over Onondaga County and beyond.